Session list window
This section describes the session list window that is opened with F5 from a category tree.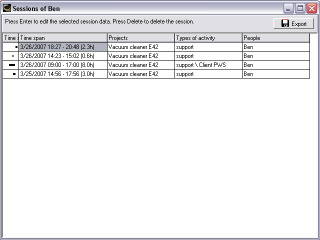 Using the session list, you can edit and review sessions. The details of the sessions are displayed as horizontal rows.
The first column shows the time span graphically. The time span is displayed horizontally as a rectangle. A time session of eight hours takes one third of the width of a cell, because it is one third of a full day.
The second column displays the start and stop time and the length as text.
The other columns display the categories on which the time is spent.
To edit a session:
Double click on what you want to edit, or...
Select what you want to edit, and press Enter.
Click on the Export button to export the table to the CSV format.